Yasmani Grandal knows what it's like to be a top minor league prospect, and he knows all about the pressure that comes with it.
The Cincinnati Reds' first-round pick in 2010, Grandal signed a major league contract in August of that year and was placed on the 40-man roster, a rarity for a draft pick. With the high draft standing came hype. Some called Grandal "a steal" as the No. 12 pick, and the Reds said the "very polished" player would be on the fast track to the majors.
But when Grandal got to camp it was an eye-opening experience. It was a veteran clubhouse manned by the likes of Scott Rolen, Edgar Renteria, Bronson Arroyo and Brandon Phillips. The 22-year-old Grandal suddenly realized he didn't have any idea what it took to be a major league baseball player.
"It was kind of nerve-racking because one year I'm watching all these guys play in the big leagues, the next year I'm with them in big league camp," says Grandal. "I was more starstruck than anything, you know?"
Grandal found the pace of camp overwhelming, even though he only caught bullpens and rarely got to hit in games.
"It seemed like I was getting there at six in the morning and all of a sudden I was coming back home," he recalls. "It was just one big blur."
Grandal would recover, rising all the way to Triple-A in his first full season, hitting .305 with a .901 OPS in the process. He says he learned a lesson in that first big league camp, a lesson he can pass on to a group of talented young Dodgers prospects that includes Corey Seager, Julio Urias and Joc Pederson.
"Don't rush, believe in the process," says Grandal, now entering his fourth major league season at 26. "I came up pretty quick, and I had to learn a lot of things in the big leagues. It's a process for a reason. There's a reason why there's a (farm) system, so don't worry about it. If they're good enough they're going to be there."
Getting a taste of the big leagues
Corey Seager is only 20 years old and in his first big league camp, but you wouldn't know it by the way he carries himself. In the clubhouse, he can often be seen joking with teammates, talking trash over the frequent ping-pong  games, and generally enjoying himself while also going about his business.
On the field all he has done is hit (.375 in his first six games, including a game-winning double), and play flawless defense at shortstop, prompting Dodgers manager Don Mattingly to glowingly compare Seager to Cal Ripken as a shortstop, and his quiet, left-handed swing to that of John Olerud.
If those kind of statements put any pressure on Seager, it doesn't show.
"I try to keep (the media hype) out of my mind," he says. "My mom's big on that stuff and I hear it from her, but I don't read it personally. I don't even ask (her) because if I do it's gonna be a long conversation."
Seager says that it has helped having older brother Kyle, an All-Star third baseman for the Seattle Mariners, to talk to, making the whole spring training experience "not as abnormal to me."
While Mattingly says he wouldn't be scared of putting Seager on the big league roster, the plan is to have him start the season in the minors. Knowing this, Seager is just trying to soak in as much of the experience as he can and learn from Jimmy Rollins, Adrian Gonzalez, Carl Crawford and what he calls "a pretty big-time clubhouse."
"I'm just trying to learn as much as I can, absorb as much as I can from everybody, just stay in the shadows and see how people go about their business."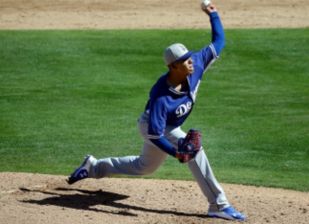 Showing what you can do
Julio Urias is no stranger to hype. As a young left-hander from Mexico, he was compared to Fernando Valenzuela almost from the start. But after dominating at Class-A Rancho Cucamonga last summer while throwing only 87.2 innings, he knows he has a long way to go before being ready to handle the workload of a major league starter.
Urias, an uncommonly poised 18-year-old, sees his first big league camp as a great chance to face major league hitters and see what he has to work on.
"They're experienced hitters and I'm still gaining experience," he says. "So it is special (to face major leaguers) and I feel like I still have some work to do."
During a live batting practice session he faced big leaguers Chris Heisey and Alex Guerrero, as well as fellow prospects Joc Pederson and O'Koyea Dickson and Urias got instant feedback on his stuff. Some of it came via missed swings and some of it came via gaping mouths.
"They congratulated me, they told me I'm ready and to keep working," Urias says. "(Heisey) told me that he liked one of those changeups that I threw and that he could never hit it."
Pederson calls Urias' stuff "electric," and says "he's 18 and he's throwing 96, that's not normal."
And Dickson says Urias should continue to dominate at Double-A this summer, where he'll likely start the season.
"That's top of the line stuff right there," he says.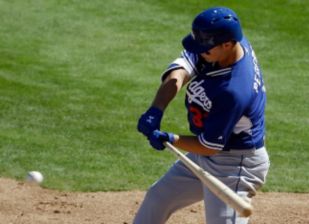 Taking the next step
While Seager and Urias have the luxury of playing without worrying if they'll make the big league club — they know they won't – the situation is different for Joc Pederson.
A 22-year-old from Palo Alto, Calif., Pederson has done just about everything he can in the minors, having hit 33 home runs and stolen 30 bases for Triple-A Albuquerque last summer. For Pederson, it's about taking the next step and becoming a major leaguer.
"Joc is like all the prospects," Mattingly says. "You see him in camp one year and you know he's not going to make the club. And then he goes out and slays Triple-A, and says he's ready. So we'll see."
Pederson has done much to show he can play in the majors, putting on impressive displays of power during batting practice and raking in Cactus League play (.455 in his first five games). In the clubhouse, he has been businesslike while also showing he is one of the guys.
Veteran infielder Darwin Barney, a clubhouse neighbor of Pederson, has been impressed with his young teammate.
"I enjoy sitting next to the guy," Barney says. "He's hungry and he's a sponge right now. There's no guy, no young guy, better than him so far that I've met, just as far as his attitude. He'll take your crap, and give it right back."
Pederson says he's not treating this spring differently than any other, emphasizing that he's focused on working hard and trusting that when he's ready for the majors, he'll be on the Dodgers roster – making him sound a lot like Grandal.
"I just show up every day, continue to take on the process that the coaches gave us, and grow as a player," Pederson says. "You can never be too good. I've got a lot of work to do."