Josh Ravin won't forget that night in 2012 when he was called into his manager's office. It was good news – the Cincinnati Reds were going to promote him to Double-A. But his manager had one question for him: "Have you got any (health) issues?"
The truth was his groin was bothering him. He'd tweaked it the night before but pitched through the pain without telling anyone. He certainly wasn't going to bring it up now. Not when he was about to be promoted. Not when he'd just spent the first 12 weeks of the season recovering from an oblique injury.
So he lied, and he got his promotion.
"I can pitch through this," he thought.
He didn't want to go back on the disabled list, didn't want to gain a reputation of being injury prone, and certainly didn't want to miss any more time in the field. You only get so many chances in this game and if you stay off the field long enough, they'll forget about you. Out of sight, out of mind.
Such is the pressure of advancing through the minor leagues. You're always looking for ways to improve, ways to get noticed, ways to move up, all while competing against your own teammates to earn a spot at the next level.
The road through the minor leagues is a difficult one to navigate. The bus rides are long and uncomfortable, the crowds are small and the facilities are low-rent. And the salaries are much, much smaller than those in the majors. It's enough to make a guy play through pain, or even lie about an injury. Such is life in the minor leagues.
'I want it more than anything'
It was nearly three years ago that Ravin thought he could fool his body and his coaches into thinking everything was OK.
"I went home and iced," says Ravin, recalling that night. "I was just icing it and icing it and just hoping. I kind of knew it wouldn't (work) in the back of my mind, but I was just trying so hard to pretend it was. But it wasn't worth pitching through."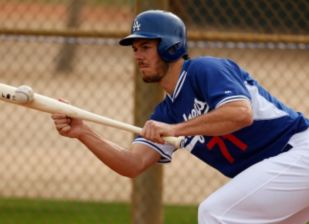 Ravin couldn't sleep that night. He was embarrassed he had lied, embarrassed he was injured, and frustrated at his bad luck. "How could I get hurt again," he thought, "when I worked so hard to stay healthy?"
The next day he went to visit his trainer and confess, and he broke down and cried.
"It just finally caught up to me and I just couldn't hold it in any longer," Ravin recalls. "It's tough. You work so hard for certain things, and (stuff) happens, basically."
Now 27 and a member of the Dodgers organization, Ravin has yet to pitch in the major leagues. The native of the San Fernando Valley has dominated in his spring training appearances, striking out nine batters in 4 2/3 innings without allowing a run. Yet the 2015 season will be his 10th in the minor leagues, as there is no room in the Dodgers' crowded bullpen.
He's come to terms with that, joking that he's spent three years  on every minor league level, which puts him on pace to break into the majors either later this season or in 2016.
"I'll play this game for as long as I can, in the minor leagues for as long as I can if that's the case," Ravin says. "It's what I love to do. There's times where things get frustrating but it's 'how bad do you want it?' I want it more than anything."
'I'm really not a big fan of bus rides'
Darnell Sweeney is about to start his fourth season in the minor leagues, as the Dodgers will likely start him out in either Double-A Tulsa or Triple-A Oklahoma City. He got a taste of the big leagues this spring as a non-roster invitee to the team's major league camp, hitting .421 in 14 games, and he's not all that eager to go back to the minors. After all, flying charter is much more enjoyable than riding the bus.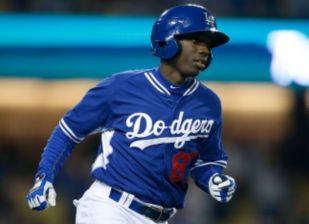 "It's a lot different (in the majors)," he says. "I can't wait until I can get up there and stay up there. I'm really not a big fan of bus rides."
Sweeney didn't have to think long when asked for a horror story from the minors, recalling a particularly rough trip in 2012 with Great Lakes of the Midwest League.
He'd finished off an extra-inning night game in Fort Wayne, Ind., and hopped on the team bus sometime after 1 a.m. to begin what should have been a five-and-a-half hour drive to Bowling Green, Ky. The bus broke down though, and the players had to wait another two-and-a-half hours for a replacement to arrive.
"We didn't get into Bowling Green until, like, 8:30, 9 in the morning for a 6 o'clock game that night, so it was kind of a grueling day," Sweeney says. "But it's just the tricks of the trade. It's what we have to go through. Everybody knows what the minor leagues are like.  You've just got to embrace it, take the best of it you can and keep moving."
Sweeney won't be down there long if he keeps playing the way he has been. The infielder hit .288 with a .387 on-base percentage and .463 slugging in Double-A last season.
In the meantime, he'll deal with the buses.
"I'm pretty good at sleeping on a bus," says the 6-1 Sweeney. "I can curl up pretty good."
'I can play in the big leagues'
For outfielder Chris Heisey, getting to the majors is largely about confidence. Heisey went unnoticed in high school and played collegiately at Messiah College, a tiny, Div.-III school in Grantham, Pa.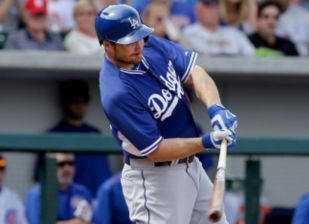 At the end of his sophomore year, he and a buddy traveled to several major league tryout camps in Pennsylvania, Maryland and New Jersey.  He gained some notice at the tryouts, started seeing scouts at his games, and was the 17th-round pick of the Reds the following summer.
"I got to rookie ball and thought 'OK I can hang with these guys,'" Heisey says. "Each level you start believing in yourself.  As I got to Double-A and had the best year of my career in pro ball, I thought 'this is what I can do. I can play in the big leagues.' And then the following year I got called up."
Heisey's rise to the majors was fairly quick – just three-and-a-half years. But while his defense in the outfield has been good, he has struggled to hit consistently.
Nonetheless, he remains confident that he belongs.
"I think for me it was just buying in to the fact that I can play," he says. "These guys aren't that much better than me. I'm just as good as they are and I think that's half the battle, believing in yourself."
'The hardest part is staying here'
Once you make it to the majors, there is no time to rest on your laurels as there are plenty of people willing to take your job. Not only that, but the talent level of the opposition gets a whole lot tougher, their scouting reports are better and their adjustments come faster.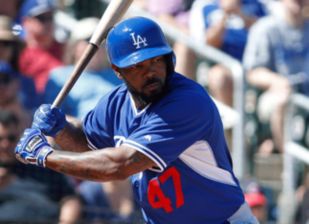 Nobody knows this better than Howie Kendrick, who first broke in with the Angels in 2006 but didn't play a full season until 2010.
"I think the hardest part is staying here," he says. "You get guys who get a taste, maybe have some success, then they go through that hardship a little bit and they don't know how to come back from that."
Kendrick, a career .292 hitter beginning his first season with the Dodgers, says the biggest difference between a minor league pitcher and a major league one is execution.
"When you're facing guys like Kershaw, Felix Hernandez, the (Max) Scherzers and those guys, those breaking balls don't hang as much," he says. "You might only get one or two pitches the whole day to do something with, and you don't want to miss them."