Justin Turner charges as the bunt rolls down the third baseline. Collecting the ball, he wheels and fires a dart to shortstop Jimmy Rollins, who is covering third base.
If this were a game, it surely would have been an out. But since this is infield practice during spring training, it's all about learning fundamentals, and coach Tim Wallach stops the action to scold Turner for not throwing to first. Take the safe out, Wallach says over Turner's protests. Besides, "it's an awkward play for Jimmy to make from that angle."
Rollins, though, immediately has his teammate's back. He smiles and wins the argument for Turner with a simple declaration: "I'm like Jerry Rice, baby!"
That's the way Rollins is – confident bordering on cocky, playful yet professional, blunt but empathetic. They're the kind of qualities that make for a natural leader, even though the 36-year-old is technically one of the new guys.
There was much talk following the 2014 season about the Dodgers' clubhouse, and the leadership – or lack thereof – within. But while opinions may vary on how things used to be, there is no denying how they are now. With Rollins, along with his new double-play partner Howie Kendrick, who is also a first-time Dodger, the clubhouse is in good hands.
"Those guys have been great players for a long time," says Dodgers manager Don Mattingly, who acknowledged that the "street cred" of both Rollins and Kendrick made them instant hits in the clubhouse despite being newcomers. "We just ask Jimmy and Howie both, to just be themselves. That's all we're gonna need. We're not going to ask them to do anything out of the ordinary."
Different methods of leadership
The street cred Mattingly speaks of runs deep with both Rollins and Kendrick. Both have been All-Stars. Both have been to the playoffs multiple times. Kendrick is a career .293 hitter. Rollins has a World Series ring and an MVP award.
But it takes more than stats and awards to lead a clubhouse. You have to want to lead, and both players do, though their methods are different.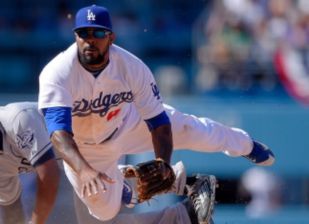 Kendrick is affable and approachable. He's not going to seek anyone out to lecture them, but he makes it known that if you come to him, he'll lend an ear and offer advice. Numerous young players at spring training mentioned Kendrick when asked who they went to for help.
"It's about building that relationship and getting comfortable," Kendrick says. "Hopefully I can lead by example and by what I do out on the field. If a guy has a question or if I have an opportunity to help somebody I'd like to do that. I respect every guy in here. You can learn something from any guy in a locker room."
Rollins' approach is more assertive and vocal.
He can be encouraging, loudly gushing "that's filthy right there," when veteran pitcher David Huff executes a nice pickoff move.
His approach can also include pointed criticism disguised as playful trash talk, like when he rescues a poor throw from teammate Juan Uribe with a nice scoop and adds: "I gotcha, I gotcha. Just get it there."
The subtext of the message seems to be "I've got your back this time, but let's pick it up," and Uribe's throws become noticeably sharper.
Understanding the pulse of the team
Rollins doesn't just run his mouth for the sake of talking. He's calculated and smart.
Playing for the Phillies, he had watched Yasiel Puig play, and from the opposing dugout something about the young phenom rubbed him the wrong way.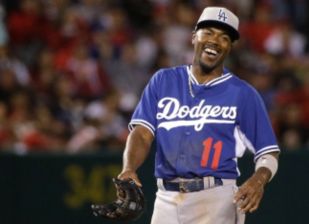 "Just as a competitor, you admire him. But you learn not to like anybody," Rollins says. "Once the trade happened, it was, 'All right I get to see what this guy is really like' – and he's nothing like he was playing against him. Which is good. Which is good. That's how you want the other side to look at you. They're not supposed to like you and he does a very good job of making the other side not like him."
Rollins knew he would have to get to know the rising star, who is so integral to the success of the team. The perfect opportunity came early in spring training when he found himself alone in the clubhouse with Puig and one of Puig's cousins. The veteran approached the young All-Star because, as Rollins said "That's when you get to know guys – who they are, if they're really a good guy or if they're not a good guy. You'll find out."
Rollins says he put aside any previous judgments. He wanted to come in with a clean slate and simply try to get to know the man, to find out what makes him tick. They spoke for two hours, with Puig's cousin helping with English-Spanish translations.
What Rollins found was a young star very confident in his abilities and very aware of his importance to the team, but also a person who wants to improve his game and to mature as a player, who is eager to please and who wants to be liked.
"From what I see and what I've heard, he's inserting himself into more of a team role instead of just '66 – Yasiel Puig,'" Rollins said. "That's good for everybody but even more so it's good for him. You get the guys on your team to like you and respect you, the outside will follow. That's the way it is. And the organization will see it, be able to see you as a person not just as a talent."
Leadership never rests
Rollins and Kendrick both know it takes more than clubhouse chats during spring training to lead a team. It requires constant vigilance, keeping tabs on the mood of the team, knowing when someone might need a pat on the back – or some stern words.
It requires taking the blame when things go bad and sharing the praise when things go right. And it requires keepings things even during the marathon that is a baseball season, and keeping the focus on the big picture.
"You always need every piece," says Kendrick, who emphasizes the importance of letting every player know that he is important to the team's success. "Especially in this locker room any guy could step up and be that piece, so you want to help them along, too. It's not a competition against guys, you want them to work with you so you can achieve one goal and that's to win."