"People ask me all the time, 'Is pitching natural?' I would say that excessive pitching, throwing 100 full-effort pitches every fifth day, is not natural."
— Dr. Glenn Fleisig, Research Director at American Sports Medicine Institute, in an interview with Grantland.com, published March 10, 2015
LOS ANGELES – Good pitchers are hard to come by and losing them is costly. Nobody knows this better than the Dodgers, who have already been denied the service of two starters – Hyun-Jin Ryu and Brandon McCarthy – for the rest of the season.
That's more than $17 million in salary sitting on the disabled list due to injuries that came about simply by doing their jobs – throwing a baseball.
Ryu was lost to surgery on his shoulder, a joint that has bothered him to varying degrees for years. McCarthy, on the other hand, fell victim to what seems to be a rising issue across Major League Baseball – a torn ulnar collateral ligament that required Tommy John surgery.
Tommy John is a procedure in which a damaged UCL in the elbow is replaced with a tendon from elsewhere in the body. The surgery is named after the first pitcher to undergo it, a former sinkerballer who damaged his UCL while pitching for the Dodgers in 1974. John would recover from the surgery and end up pitching until 1989. Tommy John surgery has saved or prolonged the careers of numerous pitchers pitchers since, but it has become so commonplace in the last four years that it has alarmed many in the baseball world.
According to Stan Conte, the Dodgers' Vice President of Medical Services, there was an average of 15.8 Tommy John surgeries per season in Major League Baseball from 1990 to 2011.
Then, in 2012, there were suddenly 36. The number dipped to 18 in 2013, but last season it rose again to 31.
"Is there an upward trend?" asks Conte, "There is. In the last three years it looks like an epidemic."
But Conte cautions against actually classifying it as such. Part of the reason for the increase, he says, is that pitchers are much more inclined to try the procedure than in the past due to its success rate. Another thing, he points out, is that there is a significant rise in players opting to undergo the procedure a second time – 11 of them in 2014 — whereas in the past those pitchers would likely just call it quits. That adds significantly to the overall numbers.
But even taking this into account, the trend is growing. So why are pitchers blowing out their elbow ligaments at an increasing rate? That's the (multi-)million dollar question.
"Medicine is really behind on all this stuff. That's why I spend so much time doing research," Conte says. "We don't have a lot of answers. What are the risk factors from a Tommy John surgery? I can give you about 10 different levels of what the risks are. We don't know exactly which ones play into it."
Conte mentions velocity, mechanics, previous workload and body type as some of the potential factors that could play a role in a pitcher's health, but admits that there is not yet any concrete evidence that has been provided by the research community that points to any one thing over the other.
Maybe, in the end, it is as simple as Dr. Fleisig puts it. Maybe injuries happen simply because pitching is not natural. But Conte is not yet sold.
"I think the take home point on this whole thing," Conte says, "is that we're in the process of doing a lot of stuff and we still don't know anything."
Can pitcher injuries be prevented?
If a team could figure out how to prevent injuries – or at least identify pitchers more likely to stay healthy – the cost benefits would be enormous.
While there is no widely accepted reason for the rise in injuries, there are plenty of theories on how to build and maintain a healthy arm. All you have to do is search the internet to find that out.
One such theory comes from Alan Jaeger, founder of Jaeger Sports in Los Angeles. Jaeger is a passionate advocate for long toss, a philosophy that is gaining steam in the baseball world. (Jaeger was recently featured In Sports Illustrated).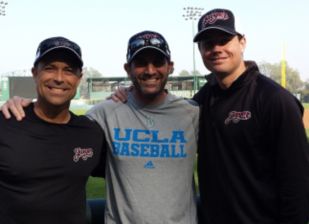 Jaeger believes that pitchers don't train hard enough to build up arm strength, and that they should be throwing longer distances for longer periods of time. Whereas many pitchers work out their arms by moving out to a distance of 120 feet (twice the distance from the mound to the plate) and throwing hard and on a line for perhaps 10 minutes or so, Jaeger believes it is more beneficial to stretch it out much further – even to 300-plus feet – and to throw the ball on a high arc for up to 30 minutes.
He believes that by doing "long toss" like this multiple times a week, in combination with specific stretching exercises, loosens the shoulder, stretches out the joint, and strengthens the arm. The distance a pitcher can throw from is left up to the athlete, depending on how he feels on any particular day.
"I've done a number of talks or interviews of the last three or four years, about injuries and stuff," Jaeger says. "I always come back to the No. 1 reason is because of the babying of the arm at the professional level.
"At the end of the day, we're just doing what you would do with any other part of your body to train and develop it, and this is normal."
Jaeger compares it to that of an Olympic swimmer, who would not train for the 100-meter freestyle by swimming the 100-meter freestyle over and over again. The swimmer would train by going longer distances for longer periods of time to build up stamina and strength. Why wouldn't that also apply to pitchers?
The theory makes sense, and it's an impressive thing to watch.
Jim Vatcher, a former Major League outfielder who works with Jaeger, says he would long toss every day and maintained "epic arm health."
At a recent throwing demonstration at UCLA's Jackie Robinson Stadium, Vatcher, 50, threw with fellow Jaeger Sports employee China McCarney, stretching it out to about 300-plus feet with ease.
"I'm an expert on my arm now," Vatcher says. "I'm an expert on my body and that's what happens when you throw for 30-40 minutes a day. You become an expert on release point, on accuracy, on feel, on just knowing what you're capable of. You don't get that on 10 minutes of linear (throwing). You can't get that feel. It's impossible."
Jaeger and Vatcher are not alone in their advocacy of long toss. Cleveland Indians pitcher Trevor Bauer, a former All-American at UCLA, is one of them. And there are a host of testimonials on the web site, from prominent college coaches to big leaguer pitchers and beyond.
Among Dodgers, though, opinions on long toss are mixed.
Reliever Juan Nicasio, for instance, doesn't long toss during the season, but says it's a good offseason activity.
"I'll do it in December," he says. "It helps your shoulder. When you throw long toss, it makes your arm strong. You throw three times a week, long throwing, you'll be ready for spring training."
Clayton Kershaw, the reigning NL Cy Young and MVP, stretches with rubber bands, as Jaeger advocates.
"I started using them in high school and I felt like I started throwing harder so I kept doing them," Kershaw says. "Obviously it was coupled with when I was growing and getting bigger and stronger already, but I put them in and my arm felt good, so I kept using them."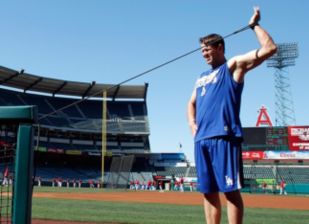 But while Kershaw does like to strengthen his arm by throwing well beyond the typical 120 feet, he does not believe in the high-arching throws that Jaeger prescribes, preferring to keep the ball on a line.
"I just don't believe in throwing it high, because I just don't think it builds arm strength," he says. "We don't ever throw a ball like that (in a game), so why would you try to do that?"
But while he says he personally doesn't see the benefit of it, Kershaw allows that "it's worked for a lot of people, so who am I to say that it's not right?"
Interestingly, Brandon Beachy, who is in the midst of rehabbing from his second Tommy John surgery, says he loved long toss.
"I used to go foul pole to foul pole," he says. "I felt like it stretched me out. I felt good. But back then I felt good every day. There wasn't one thing about it that I needed or loved or depended on. But I liked it. I liked how I felt after doing it."
Beachy says he probably won't do the full version of long toss anymore – he has to treat his arm differently after two Tommy John surgeries. But he doesn't blame long toss or any one thing for his injuries.
"I think there's biological, physiological, mechanical things that we do that, you know, sometimes it's the wrong stress in the wrong place," Beachy says. "There's no one thing. You can't look at one thing and be like, 'oh well, he's doomed,' or anything like that."
While opinions on long toss vary in the Dodger clubhouse, every pitcher interviewed for this story said it was more about personal preference than anything else. Different things work for different athletes, and if something works for a particular pitcher, he should stick with it.
Conte agrees that "long toss is one of the tools that people can use." But he also cautions about jumping to any big conclusions about the practice.
"What is your definition of long toss and what does the science say about that?" he says. "Well we know that if you go past 120 feet, which isn't that far, that you change your mechanics a little bit. That's been shown. Is that good or bad? Well, consistent mechanics, we think, are really important. So if you're training one way and going to pitch another way, do you really want to do that?"
Conte has heard the arguments that long toss increases arm strength and velocity, and he doesn't deny the possibility that the arguments are correct. But he insists that the benefits have not yet been proven by science.
"That's what research is about," he says.
The search for knowledge continues
MLB is working to fill in the knowledge gap when it comes to pitcher injuries, and Conte is a part of it. This spring training, the league launched a study to examine incoming draft choices.
Each athlete will undergo an MRI, and the study will look at each player's demographics, including how much they pitched in high school and/or college and what their mechanics are like.
A group of researchers, including Conte, will follow the athletes for five years to see which pitchers get hurt, which stay healthy and try to ascertain why.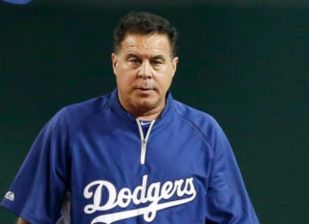 "Is it number of pitches? Is it how hard they throw? Is it their mechanics? Is it their MRI findings when they come in? (We'll look at) all those things, trying to figure out what is the risk."
It will be at least five years before the study yields anything, though.
In the meantime, Conte says he'll continue to gather data. He'll keep looking back at pitchers who have been injured and try to find common threads that bind them together. And he has suspicions and theories of his own.
He knows it seems logical that bad mechanics increase the likelihood of injury. He believes it might be possible to predict injuries by examining a pitcher's MRI. And he thinks strength and conditioning (including long toss) plays an important role in all of this – he's just not sure exactly what that role should look like.
In his mind, he needs more research. More proof.
"Medical is the last competitive advantage in baseball," Conte says. "But we have a long way to go. I can tell you I've been doing it a lot of years and I used to be across the room throwing a dart at a dart board on 'yes,' or 'no.'
"Now I'm a lot closer to the dart board but I'm still throwing the dart."